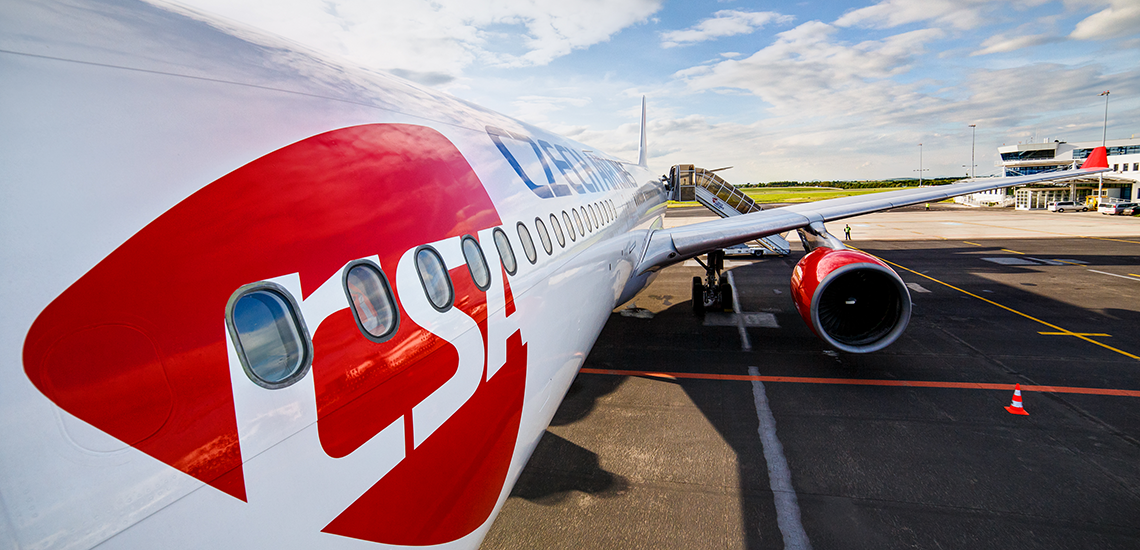 Czech Airlines represented in Australia by Czeslotour Air Services Pty Ltd is a modern European air carrier with an illustrious history.  As the flagship carrier of the Czech Republic which has been in operation since 1923, in cooperation with its partners, Czech Airlines provides connections from Prague to destinations in Europe and Asia operating to major airports in each country to which it flies. The airline has been a member of the SkyTeam alliance since 2001 and thanks to its membership in the alliance and to code-share cooperation with other partner airlines, Czech Airlines is able to offer its customers a broad selection of destinations and greater frequency connecting you to the world.
One of the five oldest airlines in Europe, during the years of its operation, Czech Airlines prides itself on a number of awards for quality of their services and holds an ISO 14001 certficate for its environmental management system as well as certification as required by IOSA (IATA Operational Safety Audit) - the most advanced safety standards in air carriage.
.
SkyTeam
SkyTeam is an international alliance of nineteen airlines and due to our cooperation with our partners in the SkyTeam alliance, we offer better and more advantageous services in more places on the globe. Thanks to the co-operation on a code-share basis with our SkyTeam partners, our customers may purchase a ticket with an OK code to places not operated by Czech Airlines and serviced by its regular scheduled flights.
By means of one of the most extensive networks of access points, SkyTeam offers the following advantages to more than 665 million travellers every day:
• The option of collecting miles for flights with any SkyTeam member airline and their use with a member airline of their choice 
• Free access to more than 750 member airport lounges worldwide  
• Guaranteed booking for SkyTeam Elite Plus members, even on sold out flights 
• More than 14,500 flights a day, from over 1,150 airports in 175 countries around the world
• More price options to a greater number of destinations
• An extensive global network of transfer points for flights of SkyTeam member airlines  
• For the comfort of passengers, SkyTeam members use simplified check-in 
• There is only one check-in for flights with a transfer
• Information at any SkyTeam office anywhere in the world
The 19 alliance partners are:  Aeroflot, Aerolíneas Argentinas, Aeroméxico, Air Europa, Air France, Alitalia, China Airlines, China Eastern, Czech Airlines, Delta Air Lines, Garuda Indonesia, Kenya Airways, KLM Royal Dutch Airlines, Korean Air, Middle East Airlines, Saudia, TAROM, Vietnam Airlines and Xiamen Airlines.
Our Home
Czech Airlines  provides connections from the Czech capital Prague, and also "via" Prague to important destinations in Europe and Asia and because of its ideal location it has become a significant European transport hub. Paying a great deal of attention in designing their flight schedules they make sure to offer convenient connections to the destination of your choice enabling you to reach your destination in comfort and safety.
Contact Us
Our team is standing by to assist you Monday to Friday 9am till 5pm
Sydney Office
Suite 17.09, Level 17,
Australia Square
264 George St.
Sydney NSW 2000
Free Call: 1800 063 257
Tel: +612-8248-0000
syd@czechairlines.com